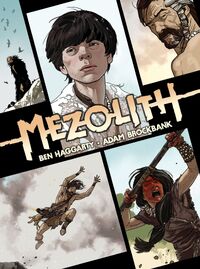 "MeZolith" is a strip written by Ben Haggarty and drawn by Adam Brockbank that ran in The DFC from issues 15 to 25 and 32 to 36. It was later collected in a hardback volume.
A second volume, consisting of entirely new material, is due to be published in Spring 2014.[1]
Set on the North Yorkshire coast ten millennia ago, "MeZolith" revolves around a boy on the cusp of adolescence named Poika, telling the story of his day-to-day life amongst his fellow hunter-gatherers in pre-insular Britain. Along the way the characters tell each other stories of strange supernatural beings such as the Swan Bride. The stories are all based on oral folk narratives found in the present day, which Haggarty conjects could have had a continuity of presence since the hunter gather cultures of the Mesolithic - and even before.
References
Edit
Ad blocker interference detected!
Wikia is a free-to-use site that makes money from advertising. We have a modified experience for viewers using ad blockers

Wikia is not accessible if you've made further modifications. Remove the custom ad blocker rule(s) and the page will load as expected.