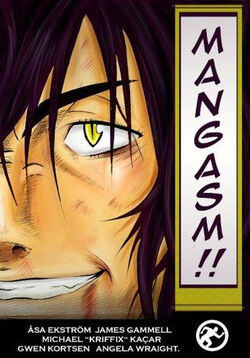 Mangasm!! is a 2008 paperback anthology from Speedlines Publishing. It contains six manga-influenced pieces by several European creators: Åsa Ekström from Sweden, James Gammell from Ireland and Gwen Kortsen, Angela Wraight and Michael Kacar from Britain. Kortsen edited the volume.
"Miri" (Åsa Ekström)
"Shonen" (James Gammell)
"The Girl And Her Horses" (Åsa Ekström)
"Unnatural Remedy", Pt. 1 (Gwen Kortsen & Angela Wraight)
Ad blocker interference detected!
Wikia is a free-to-use site that makes money from advertising. We have a modified experience for viewers using ad blockers

Wikia is not accessible if you've made further modifications. Remove the custom ad blocker rule(s) and the page will load as expected.