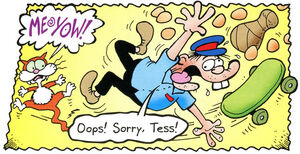 Lew Stringer (born 22 March 1959) began his career in small press comics in the late 1970s, including many featuring his character "Brickman". He was introduced to Bernie Jaye, editor of Marvel UK's The Daredevils, and had his first professional work published there in 1983. He worked as assistant to Mike Higgs for a while, since when he has worked freelance.
His creations include "Tom Thug" and "Pete and his Pimple!" in Oink (1986) and later Buster, and "Combat Colin", who appeared in Action Force and The Transformers, for which he also wrote "Robo-Capers". "Combat Colin" has also appeared in Stringer's small press comics, including Combat Colin Special and Yampy Tales, and the online anthology Aces Weekly.
Stringer has also written for CiTV Tellytots, Sonic the Comic and Toxic, and written and drawn strips for Viz. He has also worked in Europe, creating "The Suburban Satanists" for the Norwegian comic Geek and the Swedish comic Herman Hedning.
In April 2005, Active Images published Brickman Begins, a collection of all of Stringer's Brickman strips since 1979, and Brickman also appeared as a back-up strip in the US series Elephantmen from Image Comics from 1006 to 2009. Combat Colin also appeared in the strip.
In 2007 he started working for The Beano, drawing "Fred's Bed", "Ivy the Terrible" and "Super School". For The Dandy, since 2010, he has drawn "Postman Prat", "Kid Cops", "The Dark Newt" and Julius Sneezer.
External links
Edit
Ad blocker interference detected!
Wikia is a free-to-use site that makes money from advertising. We have a modified experience for viewers using ad blockers

Wikia is not accessible if you've made further modifications. Remove the custom ad blocker rule(s) and the page will load as expected.