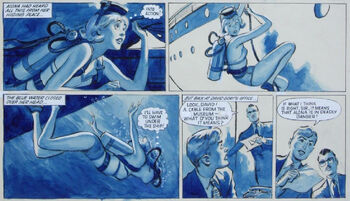 Leslie Arthur C. Otway was born in Camberwell, London, on 1 October 1902. He studied at Camberwell School of Art, and his first illustrations appeared in The Detective Magazine in the mid-1920s, working for the Strand Studio in Farringdon Street, London, which also represented Jack Greenall among others. Later, he drew for annuals published by Collins, and illustrated books. He married Olive Ward in Camberwell in 1933.
He turned to comics in the early 1950s, drawing mainly for girls' and romance digent titles like Love Story Library (1952-58), Schoolgirls Picture Library (1958-61), Confessions All Picture Library (1960), School Friend Picture Library (1962-63) and Princess Picture Library (1965-66). From the early '60s he also drew for weeklies, drawing "Girl of the Limberlost" (1962-63) and "Heiress to Tangurau" (1962) for Princess, "Belle and Mamie" (1965) and "Alona - The Wild One" (1967-70) for Princess Tina, and various strips for June (1962-72).
He is said to have lived in Stoneleigh, Surrey, until at least 1974. His death is registered in Richmond-Upon-Thames, Surrey, in the third quarter of 1979.
References
Edit
Online reference
Edit
Ad blocker interference detected!
Wikia is a free-to-use site that makes money from advertising. We have a modified experience for viewers using ad blockers

Wikia is not accessible if you've made further modifications. Remove the custom ad blocker rule(s) and the page will load as expected.