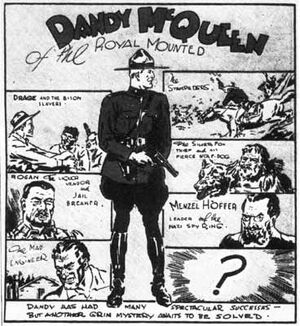 Leonard Fullerton was born in Aberdeen on 21 April 1909. He learned to draw by emulating his brothers and sisters, who were all keen artists. He was influenced by the illustrators of Chums and the Boy's Own Paper, particularly Stanley L. Wood, and enjoyed going for walks and cycle rides in the woods and fields, sketching flora and fauna as he went. In his early teens he started having drawings exhibited at the Royal Scottish Academy, and soon started getting work as a commercial artist and illustrator.
He drew adventure and science fiction comics from the late 30s, using the pseudonym Nat Brand. He started at the Amalgamated Press, drawing "Derickson Dene" for The Triumph (1939-40). During the war, while working in an aircraft factory in Dumbarton, he worked for small publisher A. Soloway, drawing "Argo Under the Ocean" for All Star Comic; "Dandy McQueen of the Royal Mounted" for All Star Comic, Comic Adventures and Red Star Comic (1941-48); "Crash Carew, Daredevil of the Stratosphere" for Comic Capers and Comic Adventures (1941-49); "Halcon, Lord of the Craters" for All Fun and Comic Capers (1942-49); and "Prince Nigel" for Comic Adventures (1942). In the late 40s he moved to Dundee publisher Valentine & Sons, where he drew "Alpha" and "Hugh the Rover" for Ace Comic and "Clint Cairns" for Super-Bumper Comic in 1948. He also drew for Sports Cartoons' Steve Sampson, and "Raiders from Space" in Thrilling Hero, in 1953, and various strips for Lone Star Magazine in the 50s. He often wrote his own scripts. He was a member of Bill McCail's Mallard Studios in Dundee, alongside Sam Fair, George Blow, Alf Farningham and Sydney Jordan. He also worked on story papers, including The Rover, where he illustrated the adventures of "Alf Tupper, the Tough of the Track", romantic fiction and newspapers strips, including the western Starlight and the animal strip Red Tod, about a wild fox.
His first love was drawing from nature, and he spent his spare time studying human and animal anatomy from books. He became a well-known wildlife artist, illustrated postcards and calendars on nature subjects, and drew a regular scraperboard feature called "Seen Out of Doors" for the Glasgow Bulletin newspaper, and later a similar feature called "In the Wild" for the Daily Mail. He died on 16 August 1968.
References
Edit
Steve Holland, Len Fullerton, Bear Alley, 31 December 2006
Alan Clark, Dictionary of British Comic Artists, Writers and Editors, The British Library, 1998, pp. 23-24
Online reference
Edit
Ad blocker interference detected!
Wikia is a free-to-use site that makes money from advertising. We have a modified experience for viewers using ad blockers

Wikia is not accessible if you've made further modifications. Remove the custom ad blocker rule(s) and the page will load as expected.