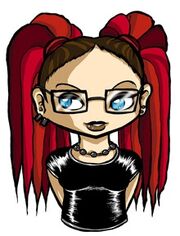 Laura Watton is an artist and writer based in Cambridge.
She began self-publishing her work in 1995 while still in her early teens.[1] Her earliest work included the still-running Biomecha; this was one of the first British comics to be inspired by Japanese manga and was favourably reviewed in the magazine Anime FX.[2]
In 2001 she became one of the founding members of Sweatdrop Studios, which she left in 2010.[3]
(Partial list)
References
Edit
↑ "Fanzine File", Anime FX issue 7, October, p. 62
Ad blocker interference detected!
Wikia is a free-to-use site that makes money from advertising. We have a modified experience for viewers using ad blockers

Wikia is not accessible if you've made further modifications. Remove the custom ad blocker rule(s) and the page will load as expected.