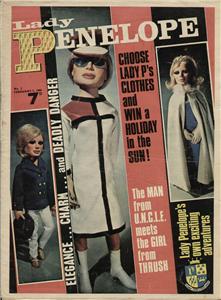 Lady Penelope was a weekly comic for girls publiched by City Magazines, later IPC, and launched on 22 January 1966 as a sister publication to TV Century 21, edited by Gillian Allan until 1968, then by Chris Spencer. From issue 53 to 62 it was known as The New Lady Penelope, and from issue 123 to 204 it was called simply Penelope. It ended with issue 204, dated 13 December 1969, after which it was merged into Princess Tina.
Lady Penelope, the character from Thunderbirds, had first appeared as a strip in TV Century 21, written by Alan Fennell and Scott Goodall and drawn by Eric Eden and John Cooper, before the TV series had even been shown, and led the new title, written by Alan Fennell and drawn mainly by Frank Langford, and sometimes by Michael Strand and John M. Burns. Other strips, mostly based on TV series, included:
References
Edit
Online reference
Edit
Ad blocker interference detected!
Wikia is a free-to-use site that makes money from advertising. We have a modified experience for viewers using ad blockers

Wikia is not accessible if you've made further modifications. Remove the custom ad blocker rule(s) and the page will load as expected.