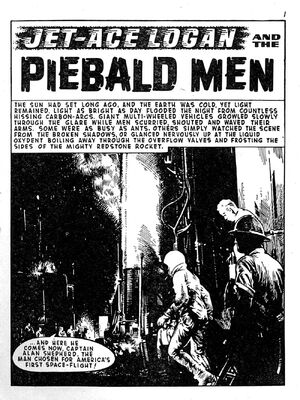 Kurt Caesar was born Kurt Kaiser on 30 March 1906 in Montigny-lès-Metz, France, to German father. He studied Engineering in Leipzig, and later the Academy of Fine Arts in Berlin. In the meantime he had a boxing career which led him to win a German title. In 1929 he became correspondent for a magazine in Zürich and collaborated for several German magazines; his journalist career led him to travel in Europe and Asia. After his marriage he moved to Italy, where he changed his name to Caesar and started to work in comics, signing his work Cesare Avai , Caesar Away and Jack Away. He served during World War II, including as an interpreter for Erwin Rommel until he was captured by the British, and returned to Italy at the end of the war where he continued to draw comics and illustrate the covers of science fiction magazines. In the 60s he worked in British comics, drawing a number of issues of Thriller Picture Library, Battle Picture Library, War Picture Library and Air Ace Picture Library, including adventures of Dogfight Dixon, Battler Britton, Spy 13 and Jet-Ace Logan. He also worked in German comics. He died of an infarction at his home in Bracciano, Italy, on 12 July 1974.
References
Edit
Alan Clark, Dictionary of British Comic Artists, Writers and Editors, The British Library, 1998, p. 33
Online reference
Edit
Ad blocker interference detected!
Wikia is a free-to-use site that makes money from advertising. We have a modified experience for viewers using ad blockers

Wikia is not accessible if you've made further modifications. Remove the custom ad blocker rule(s) and the page will load as expected.