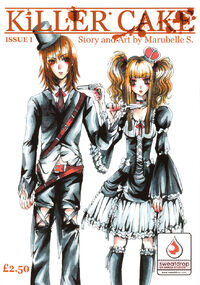 Killer Cake is a 2006 comic written and drawn by Jacqueline Kwong (under the pseudonym of Marubelle S.) and published by Sweatdrop Studios.
It tells the story of two vampire detectives, Verion and Lulu, as they try to track down a murderer named the Red Ribbon Killer.
Although Kwong initially planned to make a second issue, only issue one was ever published.
Ad blocker interference detected!
Wikia is a free-to-use site that makes money from advertising. We have a modified experience for viewers using ad blockers

Wikia is not accessible if you've made further modifications. Remove the custom ad blocker rule(s) and the page will load as expected.