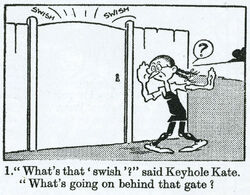 "Keyhole Kate" is an early strip from The Dandy (1937-55, originally drawn by Allan Morley), later appearing in Sparky (1965-74) before returning to The Dandy. It starred a nosy girl who liked to look through keyholes.
When The Dandy went digital following its cancellation in late 2012, Keyhole Kate was drastically reinvented as a schoolgirl detective; after becoming a reporter for her school newspaper, she ended up embroiled in a mystery.
Ad blocker interference detected!
Wikia is a free-to-use site that makes money from advertising. We have a modified experience for viewers using ad blockers

Wikia is not accessible if you've made further modifications. Remove the custom ad blocker rule(s) and the page will load as expected.