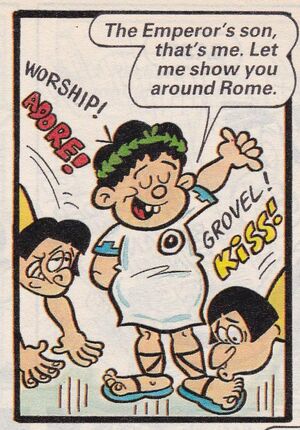 Julius Beezer was a strip in The Beezer and Topper, first appearing in issue 103 (5th September 1992). It was drawn by Barry Glennard. It revolved around the son of an ancient Roman emperor.
Although he was introduced after the comic had done away with having different sections for Beezer and Topper characters, Julius was classed as a Beezer character (as his name suggested) and became a mainstay of the Beezer annuals from after the comic's cancellation, where John Geering and Paul Palmer went on to draw the character.
Ad blocker interference detected!
Wikia is a free-to-use site that makes money from advertising. We have a modified experience for viewers using ad blockers

Wikia is not accessible if you've made further modifications. Remove the custom ad blocker rule(s) and the page will load as expected.