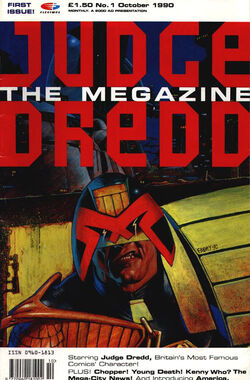 The Judge Dredd Megazine (originally titled Judge Dredd: The Megazine) is an anthology published by Fleetway, later Rebellion. A spin-off from 2000 AD, it features Judge Dredd and other characters from his world. It was launched in October 1990, and is published monthly (fortnightly from 2 May 1992 to January 1996). For much of its run it has featured reprints from 2000 AD and Battle Picture Weekly as well as Hellboy and Preacher from the US. In recent years it has taken on more of a magazine format, with articles, interviews, film reviews etc, as well as comic strips.
Aside from the regular "Judge Dredd" strip, and Dredd serials like "America" by John Wagner and Colin MacNeil, the Megazine has featured:
Reprints have included:
References
Edit
Ad blocker interference detected!
Wikia is a free-to-use site that makes money from advertising. We have a modified experience for viewers using ad blockers

Wikia is not accessible if you've made further modifications. Remove the custom ad blocker rule(s) and the page will load as expected.