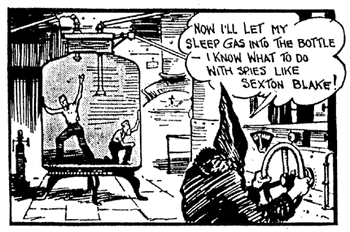 Josiah Henry Walker was born in Edmonton, London, in the third quarter of 1887, the son of a decorator.
He started out drawing sports cartoons for Football and Sports Favourite, Sports Budget and Sport and Adventure in the 1920s. His earliest comics work was "Harry Weldon" (1926) for Golden Penny Comic, later reprinted in The Happy Comic (1928) and Merry Moments (1928).
From the later '20s and throughout the '30s he drew illustrations for story papers like The Boy's Friend (1926-27), Bullseye, Champion, Thriller, Detective Weekly and Chums. He drew comic strip adaptations of popular films for Film Picture Stories (1934-35), and also drew "James Cagney" (1936) and "Buck Jones" for Film Fun. He drew strips for the early issues of Knock-Out, including "The Steam Man" (1939-40) and the first Sexton Blake comic strip serial, written by Knock-Out editor Ted Holmes.
Before the Second World War he drew the covers for Tottenham Hotspur's match programmes, as well as programmes for West Ham speedway. He also drew a regular sports cartoon for the Evening News. He died in London in the fourth quarter of 1942, aged 55.
References
Edit
Alan Clarke, Dictionary of British Comic Artists, Writers and Editors, The British Library, 1998, p. 176-177
Denis Gifford, Encyclopedia of Comic Characters, Longman, 1987
Online reference
Edit
Ad blocker interference detected!
Wikia is a free-to-use site that makes money from advertising. We have a modified experience for viewers using ad blockers

Wikia is not accessible if you've made further modifications. Remove the custom ad blocker rule(s) and the page will load as expected.