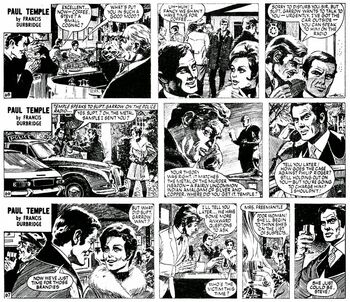 John Joseph McNamara was born in New Zealand on 20 April 1918. He started out drawing caricatures for local magazines and newspapers in his teens. From the late 1930s until at least 1951 he was a political cartoonist for the Southern Cross. He was a member of the short-lived New Zealand Cartoonist's Association.
He moved to the UK in March 1950, where he drew comic strips for British newspapers. Early strips included "Bats" Belfry and Horatio Hornblower, adapted from the novels by C. S. Forester, both for the Daily Mail. He also drew adaptations of Westward Ho! and The Red Badge of Courage, and stories of Hopalong Cassidy, Dick Turpin and Robin Hood, for Thriller Comics. In 1958 he took over drawing Paul Temple, based on a popular BBC radio serial and previously drawn by Alfred Sindall and Bill Baily, written by Francis Durbridge, for the London Evening News. During his tenure the character's appearance changed to resemble Francis Matthews, the actor who played Temple on TV. He drew the strip until it ended in 1971.
He died in Surrey in February 2001, aged 82.
References
Edit
Online reference
Edit
Ad blocker interference detected!
Wikia is a free-to-use site that makes money from advertising. We have a modified experience for viewers using ad blockers

Wikia is not accessible if you've made further modifications. Remove the custom ad blocker rule(s) and the page will load as expected.