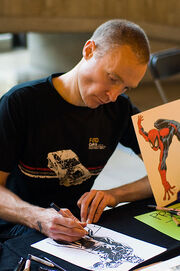 John McCrea is an artist who has worked on a number of comics for both the US and UK markets.
Comics to which he has contributed include 2000 AD, Judge Dredd Megazine and Crisis. More recently he has collaborated with American writer Phil Hester on "Warpaint", running in Strip Magazine.
External links
Edit
Ad blocker interference detected!
Wikia is a free-to-use site that makes money from advertising. We have a modified experience for viewers using ad blockers

Wikia is not accessible if you've made further modifications. Remove the custom ad blocker rule(s) and the page will load as expected.