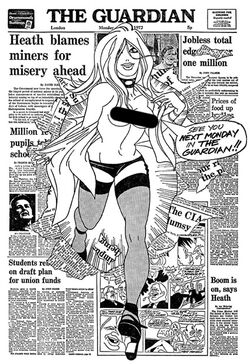 Capel John Kent (b. Omaru, New Zealand, 21 June 1937; d. Antibes, France, 14 April 2003) moved to London in 1959, working as a copywriter and art director in advertising. He turned to cartooning in 1969, selling his first strip, Grocer Heath and his pals, satirising prime minister Edward Heath, to Private Eye. The same year he created Varoomshka, a quarter-page strip in which a scantily-clad young blonde innocent asked pertinent, faux-naif questions of the politicians of the day, for the Guardian, which ran for ten years, despite the obections of some of their staff. In 1971 he married Nina Brilliant, an editor at Mills & Boon and the model for Varoomshka.
From 1973 to 1975 Kent was guest cartoonist on The Sun, and in 1975 drew for the Daily Mail. He created regular strips for Private Eye, including The Brothers, satirising trade unions, strips about political leaders, including Fifth Form at St. Maggie's and Maggie Rules, OK, targeting Margaret Thatcher, Worzel Gummidge, attacking Michael Foot, and John Major's Big Top, and strips about newspaper publishers Captain Bob and The Dirty Digger, satirising Robert Maxwell and Rupert Murdoch respectively.
He contributed to the Sunday Times from 1980 to 1983, including the Varoomshka-like strip Zelda in 1982, and to the London Evening Standard from 1982 to 1986. During the 1983 general election campaign he drew The Lefties, satirising the Labour Party, for the Daily Mail, and in 1985 he drew a poster satirising Arthur Scargill for a breakaway branch of the National Union of Mineworkers. He had another stint at the Sunday Times from 1990 to 1994, and in 1998 he created another Varoomshka-esque Saturday strip, La Bimba, for The Times, for which he also illustrated the parliamentary sketch.
He was influenced by American cartoonist Al Capp, creator of L'il Abner, and worked mostly with technical pens and felt tips. He was also a successful watercolourist, book illustrator and poster designer. He lived in London, but spent a lot of time in the south of France, where he died of cancer, aged 65.
References
Edit
Online reference
Edit
Ad blocker interference detected!
Wikia is a free-to-use site that makes money from advertising. We have a modified experience for viewers using ad blockers

Wikia is not accessible if you've made further modifications. Remove the custom ad blocker rule(s) and the page will load as expected.