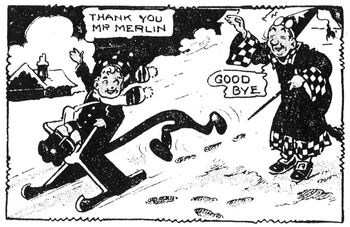 Arthur James "Joe" Hardman was born in New Cross, Lewisham, London, in the last quarter of 1874, the youngest of four sons of a commercial traveller.[1] He lived in Catford, Lewisham, and drew for the comics of the Amalgamated Press c. 1912-1953. Strips he drew include:
He died in Lewisham in the second quarter of 1953.
Footnotes
Edit
↑ Identification is slightly speculative, but the coordination of dates, locations and occupation all seem to work. Clark says Joe Hardman lived in Catford in London, and there's an Arthur James Hardman, black and white artist, age 35 , living at 202 Minard Road, Catford, Lewisham, in the 1911 census. Clark also says he drew into his old age and died c. 1928-30, but lists comic strips he drew as late as 1936, and Gifford says he drew "Sing Hi and Sing Lo" in Rainbow for over forty years, finishing in 1953. There's an Arthur J. Hardman who died in Lewisham in the second quarter of 1953, aged 78.
References
Edit
Alan Clark, Dictionary of British Comic Artists, Writers and Editors, The British Library, 1998, p. 70
Denis Gifford, Encyclopedia of Comic Characters, Longman, 1987
Ad blocker interference detected!
Wikia is a free-to-use site that makes money from advertising. We have a modified experience for viewers using ad blockers

Wikia is not accessible if you've made further modifications. Remove the custom ad blocker rule(s) and the page will load as expected.