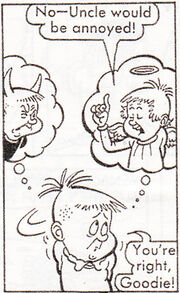 "Jimmy Jinx and What he Thinks" was a strip that ran in Buzz from 1973 to 1975, drawn by Ken Harrison and later Gordon Bell, and continued in Topper until 1989.[1]
The strip was based entirely around that resilient cartoon trope: a character torn between temptation and conscience, represented by little versions of himself as a devil and an angel.
References
Edit
Ad blocker interference detected!
Wikia is a free-to-use site that makes money from advertising. We have a modified experience for viewers using ad blockers

Wikia is not accessible if you've made further modifications. Remove the custom ad blocker rule(s) and the page will load as expected.