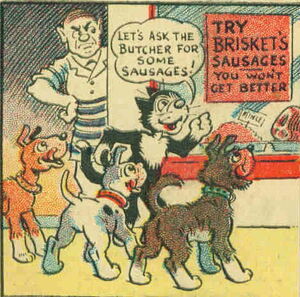 James Leuchars Crighton was born in Dundee on 2 February 1892, the son of a publican. He was educated at the Morgan Academy in Dundee and was apprenticed to a firm of architects, but quit in 1913 to join newspaper and magazine publisher John Leng as a staff artist. He served in the Royal Engineers and the King's Liverpool's in the First World War, seeing action at the Somme and Ypres, before returning to Leng, where he created his first comic characters, Billy and Bunny, for the Dundee Advertiser, in 1919. In 1925 he drew for Leng's Fairyland Tales.
In 1927 Leng was taken over by DC Thomson. In 1937 Crighton was transferred to work on Thomson's new comic The Dandy, where he drew "Korky the Cat" on the front page until 1962. He also drew illustrations for The Wizard and The Evening Telegraph, and painted covers for The Dandy, The Beano and The Topper annuals. He died in Dundee on 14 February 1962.
References
Edit
Alan Clark, Dictionary of British Comic Artists, Writers and Editors, The British Library, 1998, p. 45
Ad blocker interference detected!
Wikia is a free-to-use site that makes money from advertising. We have a modified experience for viewers using ad blockers

Wikia is not accessible if you've made further modifications. Remove the custom ad blocker rule(s) and the page will load as expected.