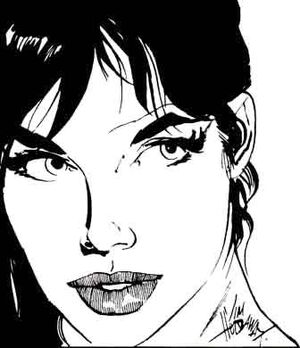 Alfred James Holdaway was born in Barnes Common, London, on 28 May 1927, and studied at Kingston School of Art, did National Service in 1945-46 with the East Surrey Regiment, serving in Italy, Austria and Greece, then returned to art school on an ex-servicman's grant.
He worked in advertising in France for a while, then returned to England to look after his widowed mother, and worked for Scion Books in Kensington, illustrating book jackets, advertisements and comics. He then went freelance, drawing for various publishers. He worked on Captain Vigour, The Football Comic, Steve Samson, Dick Hercules, Comic Cuts, Junior Express ("The Red Rider" and "Joanna of Bitter Creek", 1955), Mickey Mouse Weekly ("Davy Crockett", 1956), and Swift ("The Red Rider", 1956).
In 1957, Holdaway replaced Alfred Mazure as artist on the strip Romeo Brown, leading to the key association of his career with writer Peter O'Donnell. The two were a perfect match and in 1963 Holdaway started drawing for O'Donnell's Modesty Blaise comics strips.
He died of a heart attack in the first quarter of 1970, midway through illustrating the Modesty Blaise story arc "The Warlords of Phoenix", leaving a wife, Audrey and a daughter, Joanna. He was replaced on Modesty Blaise by Enrique Badia Romero.
References
Edit
Online reference
Edit
Ad blocker interference detected!
Wikia is a free-to-use site that makes money from advertising. We have a modified experience for viewers using ad blockers

Wikia is not accessible if you've made further modifications. Remove the custom ad blocker rule(s) and the page will load as expected.