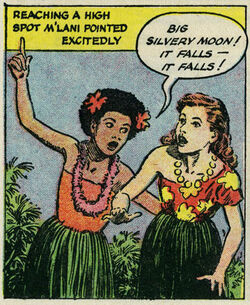 "Jill Crusoe" was a strip that first appeared in the fifties revival of School Friend. It was drawn by R. B. Davis for five years.[1]
Inspired by Robinson Crusoe, it was set around the turn of the century and starred a young girl named Jill Blair. After her ship was wrecked en route to Australia, Jill ended up as a castaway on Paradise Isle. There she made friends with a native girl named M'Lani, and earned the trust of a leopard, Katzi, after pulling a thorn from its foot.[2] She also had a parrot named Polly.
References
Edit
Ad blocker interference detected!
Wikia is a free-to-use site that makes money from advertising. We have a modified experience for viewers using ad blockers

Wikia is not accessible if you've made further modifications. Remove the custom ad blocker rule(s) and the page will load as expected.