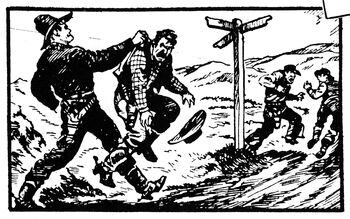 James "Peem" Walker was born in Lettercairn, Kincardine, Scotland, on 26 April 1903, the son of William Walker, a distiller, and his wife Alexina, née Anderson. He became a staff artist for DC Thomson, and from 1924 he drew illustrations for the company's story papers, including the Red Circle School stories in The Hotspur from 1933. In the late 1930s his work started appearing in the firm's comics, where he drew adventure strips including "The Smasher" (1938) and "The Sacred Bull of Batmandu" (1939) for The Dandy; "The Seven Foot Cowboy" (1939) and "Beric the Cave-Boy" (1940) for The Magic Comic; "The Kings of Castaway Island" (1956-58) for The Beezer; "Paddy's Private Army" for The Beano; and "The Four Marys" (1958-) and "The Girl of the Islands" for Bunty. He retired in the mid-60s, and died in Blairgowrie on 28 October 1984, aged 81.
References
Edit
Alan Clarke, Dictionary of British Comic Artists, Writers and Editors, The British Library, 1998, p. 176
Denis Gifford, Encyclopedia of Comic Characters, Longman, 1987
Ad blocker interference detected!
Wikia is a free-to-use site that makes money from advertising. We have a modified experience for viewers using ad blockers

Wikia is not accessible if you've made further modifications. Remove the custom ad blocker rule(s) and the page will load as expected.