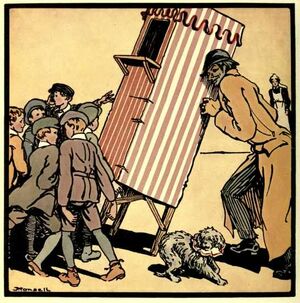 John Robert "Jack" Monsell was born on 15 August 1877 at Cahirciveen, County Kerry, Ireland, the son of the Resident Magistrate. He grew up in County Limerick, spent much of his childhood at the gome of his great uncles, the poet Sir Aubrey de Vere and the politician and scholar Sir Stephen de Vere, and was educated at St. Columba's College, Rathfarnham, Dublin. In 1902 the family moved to Chelsea, and Jack initially pursued a career on the stage.
His sister, Elinor May Monsell, won a scholarship to the Slade School of Art in London, but Jack had no formal art training. Despite this, he became an illustrator, beginning with The Pink Knight, a story he had written, and illustrated in his notebook, to tell a group of children. The publication of the book led to further books, and work with magazines like the London Magazine and Little Folks. He also worked in comics, drawing "Dolly Dimple" (1904) and "Fido and Young Reggie" (1905) for The Monthly Playbox.
During the First World War he served as an officer in the British Army, and suffered shell shock. He married the novelist Margaret Irwin in 1927, and went on to illustrate some of her historical novels. He also wrote librettos and designed sets and costumes for light operas, including an adaptation of Sheridan's The Rivals, which was performed in London. He died in Battle, Sussex, on 20 March 1952.
References
Edit
Alan Clark, Dictionary of British Comic Artists, Writers and Editors, The British Library, 1998, p. 114
Simon Houfe, The Dictionary of 19th Century British Book Illustrators, Antique Collectors' Club, 1996, p. 232
Alan Horne, The Dictionary of 20th Century British Book Illustrators, Antique Collector's Club, 1994, p. 320
John Robert Monsell: Correspondence and papers at Archives Hub
Wikipedia
Edit
Ad blocker interference detected!
Wikia is a free-to-use site that makes money from advertising. We have a modified experience for viewers using ad blockers

Wikia is not accessible if you've made further modifications. Remove the custom ad blocker rule(s) and the page will load as expected.