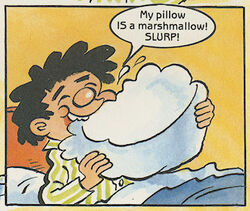 "Hungry Horace" is a strip that originally appeared in The Dandy, in the very first issue of that comic. Its original artist was Allan Morley. Much later it turned up in the first issue of Sparky, in 23 January 1965, now drawn by George Drysdale.[1] Later it relocated to The Topper.
The main character is a kid who eats a lot.
Andy Fanton provided a two-panel "Hungry Horace" strip for the final print edition of the Dandy, in which he eats the entire 75th anniversery celebration cake to the ire of Desperate Dan, Korky the Cat and the comic's editorial team.
References
Edit
Ad blocker interference detected!
Wikia is a free-to-use site that makes money from advertising. We have a modified experience for viewers using ad blockers

Wikia is not accessible if you've made further modifications. Remove the custom ad blocker rule(s) and the page will load as expected.