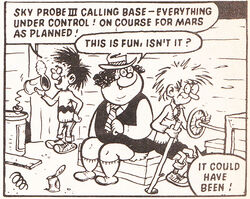 "Horace and Doris" was a strip that ran in Whizzer and Chips. It was drawn by Tom Paterson.
The strip revolved around the unrequited love of a girl named Doris for a boy named Horace, who spent much of his time trying to escape her.
It should not be confused with the newspaper stip of the same name by John Morris.
Ad blocker interference detected!
Wikia is a free-to-use site that makes money from advertising. We have a modified experience for viewers using ad blockers

Wikia is not accessible if you've made further modifications. Remove the custom ad blocker rule(s) and the page will load as expected.