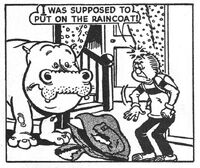 "Harry and his Hippo" is a strip that ran in The Dandy. The concept is simple enough: Harry is a boy who happens to own a pet hippo (named Hippo), which communicates to the audience using thought bubbles in the manner of Garfield and Snoopy.
A revamped version appeared in the February 26 2011 issue, part of a batch which readers were asked to vote on.[1]
Refereces
Edit
Ad blocker interference detected!
Wikia is a free-to-use site that makes money from advertising. We have a modified experience for viewers using ad blockers

Wikia is not accessible if you've made further modifications. Remove the custom ad blocker rule(s) and the page will load as expected.