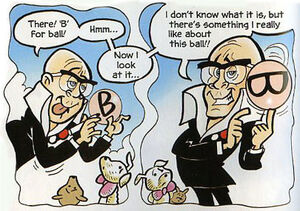 "Harry Hill's Real-Life Adventures in TV Land Featuring Knitted Character" was a strip from The Dandy, drawn by Nigel Parkinson and conceived by comedian Harry Hill, whose TV persona stars in the comic. Parkinson was the principle writer, with aid from Sean Baldwin, Duncan Scott and others.[1]
The strip told the story of Harry Hill's exploits in the world inhabited by TV personalities such as Simon Cowell. Joining him were the Knitted Character from Harry Hill's TV Burp, and the Knitted Character's nephew Knotted Character.
First appearing in issue 3508 (October 30 2010), the history of the strip goes back to discussions between Hill, Parkinson, and The Dandy's editor, who all wanted a cartoon Hill to feature in the comic in some way. At one point it was suggested that he could host the jokes page, but the comedian insisted on a strip, and suggested the name and premise of "Harry Hill's Real-Life Adventures in TV Land", comparing the idea to the Les Dawson strips in Look-In.[2] The publication of the first "Harry Hill" strip coincided with an overhaul of the comic as it switched from The Dandy Xtreme back to The Dandy; Hill was picked as the comic's new cover star, although some issues gave that honour to Desperate Dan or Bananaman.
The strip lasted for 15 months, with its final edition appearing in the Christmas 2011 issue.[1]
References
Edit
Ad blocker interference detected!
Wikia is a free-to-use site that makes money from advertising. We have a modified experience for viewers using ad blockers

Wikia is not accessible if you've made further modifications. Remove the custom ad blocker rule(s) and the page will load as expected.