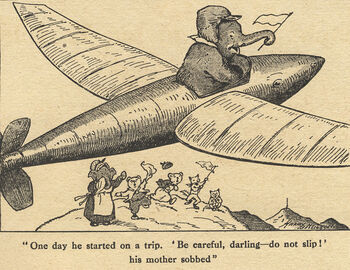 Henry Bingham Neilson was born in the third quarter of 1861 in the Wirral, Cheshire. His father Andrew was a merchant trader from Scotland who was based in Brazil in the mid-19th century; his mother Isabel Anne was born a British subject in Cartagena, Colombia. The family moved to England by 1854 and were settled in Birkenhead, Tranmere, Cheshire by 1861.
Between 1879 and 1884 he completed an engineering apprenticeship with Laird Brothers of Liverpool, and worked as an electrician on board the S.S. Nordland on trips across the Atlantic from 1884 to 1886. In 1887 hewent to India to work on an indigo plantation managed by his cousin in Behar Province, and while there he became a trooper in the Behar Light Horse Regiment. He was back in England by 1901, and lived with his sister Louisa in Bearsden, Wallsey, Chester, moving to Bidston Village by 1903.
He illustrated at least 21 children's books, often involving animals with anthropomorphic attributes, and designed Christmas cards. He also illustrated magazines and worked in comics, drawing "The Teddies" (1919-21) for The Children's Fairy.
He kept and rode horses as a hobby. He died in the fourth quarter of 1941 in the Wirral, Cheshire, aged 80.
References
Edit
Alan Clark, Dictionary of British Comic Artists, Writers and Editors, The British Library, 1998, p. 120
Denis Gifford, Encyclopedia of Comic Characters, Longman, 1987, p. 218
Christopher Proudlove, Life and times of a comic genius, WriteAntiques
Ad blocker interference detected!
Wikia is a free-to-use site that makes money from advertising. We have a modified experience for viewers using ad blockers

Wikia is not accessible if you've made further modifications. Remove the custom ad blocker rule(s) and the page will load as expected.