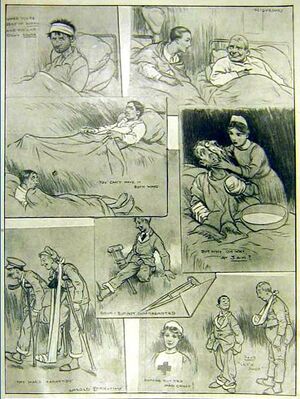 Harold Cecil "Pat" Earnshaw was born in the second quarter of 1886 in West Ham, London, the son of a bank clerk. He married the artist Mabel Lucie Attwell, whom he had met when they were students at St Martin's School of Art, in 1908. He was working as an artist by 1911, when he and Mabel were living in Croydon. He assisted his wife in her illustrations, often drawing animals and backgrounds, and was also an illustrator in his own right.
He served with the Artists' Rifles in the First World War and was wounded in action at the Somme in 1918, losing his right arm. After this he taught himself to draw left-handed, and continued to illustrate books for Blackie & Sons and other publishers. He was a member of the London Sketch Club and the Chelsea Art Club. He also drew comic postcards, and cartoons and comic strips for the likes of The Graphic, the Daily Mirror, the Tatler and The Bystander.
Having never fully recovered from his wartime injuries, he died at home in Kensington on 17 March 1937, aged 51. His and Mabel's daughter, Peggy Wickham, was also an illustrator.
References
Edit
Luci Gosling, Brushes and Bayonets: Cartoons, Sketches and Paintings of World War I, Osprey Publishing, 2008, pp. 191-192
Harold C. Earnshaw: Artist at Look and Learn
Online reference
Edit
Ad blocker interference detected!
Wikia is a free-to-use site that makes money from advertising. We have a modified experience for viewers using ad blockers

Wikia is not accessible if you've made further modifications. Remove the custom ad blocker rule(s) and the page will load as expected.