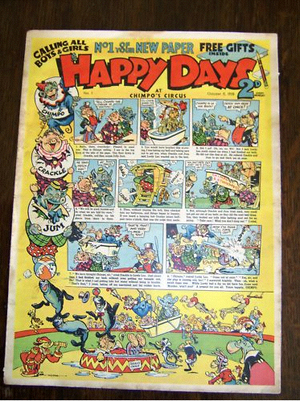 Happy Days was a humour anthology published by Amalgamated Press from 1938 to 1939. The fist photogravure comic to come out of AP,[1] its cover feature was "Chimpo's Circus", drawn by Roy Wilson.[2] Other strips included "Snow White and her Merry Friends", drawn by Walter Bell, "Peter Panda", drawn by L. R. Brightwell, "Jolly Farmer Field", drawn by S. J Cash, and "The Pirate's Secret", drawn by Walter Booth.
References
Edit
↑ Lew Stringer, Rare first issue of Happy Days fails to win bids, Blimey! It's Another Blog About Comics!, 12 December 1910
↑ Comics Britannia, BBC (via Internet Archive)
Ad blocker interference detected!
Wikia is a free-to-use site that makes money from advertising. We have a modified experience for viewers using ad blockers

Wikia is not accessible if you've made further modifications. Remove the custom ad blocker rule(s) and the page will load as expected.