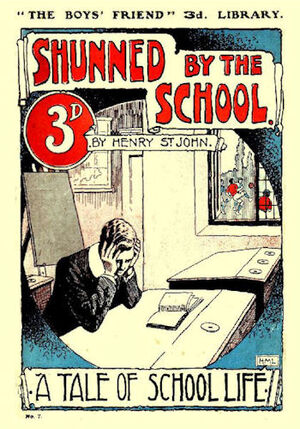 Henry Miles Lewis was born in Crickhowell, Breconshire, in the second quarter of 1875. His father, Lewis Lewis, was an accountant who died between 1881 and 1891. His mother, Ellen, was a stationer and tobacconist.
He started illustrating Sexton Blake stories for the Union Jack in the 1890s, often illustrating the covers. He drew for numerous Amalgamated Press story papers over the next three decades, including the Boy's Friend, Boy's Herald, Boy's Realm, Marvel, True Blue, Pluck and Dreadnought, as well as for some of Aldine's papers.
He died in London in the fourth quarter of 1930, aged 55.
References
Edit
Alan Clark, Dictionary of British Comic Artists, Writers and Editors, The British Library, 1998, p. 93
Ad blocker interference detected!
Wikia is a free-to-use site that makes money from advertising. We have a modified experience for viewers using ad blockers

Wikia is not accessible if you've made further modifications. Remove the custom ad blocker rule(s) and the page will load as expected.