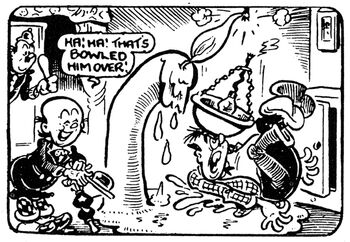 Harry Ernest Pease was born in Shoreditch, London, on 12 May 1908, the son of Albert David Pease, a cycle maker who owned two cycle shops in London and Brighton, and his wife May. He followed his more prolific older brother Charlie into drawing comics for the Amalgamated Press in the late 1930s. His earliest work included "Curly Pimple" (1938) for Comic Cuts and "Professor Jolly's Magic Brolly" (1940) for Illustrated Chips, signing his work "HEP".
He is believed to have enlisted in the forces during the Second World War. After the war he worked for smaller publishers, including Martin & Reid (Jolly Fun, 1946; Jolly Western, 1947; World Fun, 1948; Comic Fun, 1948; Squibs Fun, 1949), John Matthews (Merry Maker, 1946-48; Squibs Tuppeny, 1947) and Gerald Swan (Coloured Slick Fun, Comic Colour). The smaller publishers faded away as the Amalgamated Press recovered from paper shortages in the early 1950s, and Pease appears to have left comics. He died in Chelmsford, Essex, in the third quarter of 1982.
References
Edit
Alan Clark, Dictionary of British Comic Artists, Writers and Editors, The British Library, 1998, p. 132
Alan Clark, "A. T. 'Charlie' Pease", The Sloperian #1
Dennis Gifford, Encyclopedia of Comic Characters, Longman, 1987
Ad blocker interference detected!
Wikia is a free-to-use site that makes money from advertising. We have a modified experience for viewers using ad blockers

Wikia is not accessible if you've made further modifications. Remove the custom ad blocker rule(s) and the page will load as expected.