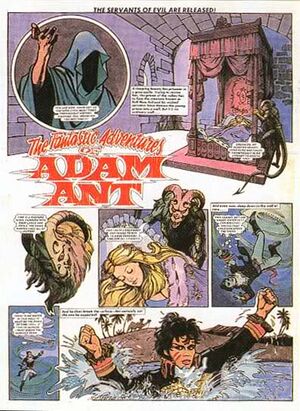 Gordon Gray was born in Paisley, Renfrewshire, in 1939, the son of Archibald Gray, a civil engineering contractor, and his wife Cecilia, née Biddie. He married Maureen Lusk in Glasgow in 1967, although their usual residence at the time was in Amsterdam. Both were already graphic artists. In collaboration with his wife, he drew "Kid's Army" and adaptations of TV and pop music tie-ins like Fame and "The Fantastic Adventures of Adam Ant" for DC Thomson's TV Tops comic, c. 1982. They then started working for Look-In, drawing "Buck's Fizz" (1983-84), "The Story So Far" (1985-86), "Airwolf" (1986-87) and "The Five Star Life" (1987). The pair usually signed their work "Gray". The couple also illustrated numerous books between 1974 and 2003. The Grays were based in Dunoon, Scotland, and Gordon died there in 2008, aged 68.
References
Edit
Ad blocker interference detected!
Wikia is a free-to-use site that makes money from advertising. We have a modified experience for viewers using ad blockers

Wikia is not accessible if you've made further modifications. Remove the custom ad blocker rule(s) and the page will load as expected.