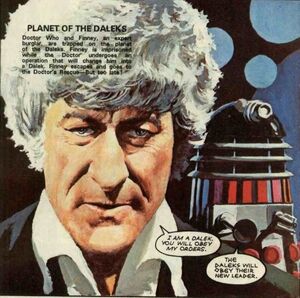 Gerald A. Haylock was born in Bromley, Kent, in the first quarter of 1928. He married Mary Hodges in 1953.
He drew "Angel of Mercy" (1957), "A Cosy Christmas" and "White Queen of Calabar" for Girl, "Knights of the Road" (1960-62) and "The Guinea Pig" for Eagle, "UFO" for Countdown, "Land of the Giants" for Joe 90, and "Doctor Who" for TV Action (1971-73) and TV Comic (1973-75, 1978), and painted covers for Schoolgirls' Picture Library.
References
Edit
Alan Clark, Dictionary of British Comic Artists, Writers and Editors, The British Library, 1998, p. 75
Online reference
Edit
Ad blocker interference detected!
Wikia is a free-to-use site that makes money from advertising. We have a modified experience for viewers using ad blockers

Wikia is not accessible if you've made further modifications. Remove the custom ad blocker rule(s) and the page will load as expected.