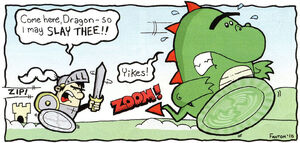 George vs Dragon is a strip in The Dandy, drawn by Andy Fanton and first appearing in issue 3508 (October 30 2010). It is a lighthearted treatment of the traditional story of St. George's battle with the dragon - the twist being that this George is something of a nutter, and the dragon a harmless lug who just wants to be left alone.
"George and the Dragon"
Edit
This was not The Dandy's first send-up of St. George. In the late eighties the comic ran a strip entitled "George and the Dragon", featuring a more vicious dragon (and his wife) and a bearded George who looked a bit like Yosemite Sam. In the late nineties another strip, also titled "George and the Dragon", appeared; drawn by John Geering this starred a more boyish George and a purple, sabre-toothed dragon. Fanton was unaware of either strip when he created "George vs Dragon".[1]
References
Edit
Ad blocker interference detected!
Wikia is a free-to-use site that makes money from advertising. We have a modified experience for viewers using ad blockers

Wikia is not accessible if you've made further modifications. Remove the custom ad blocker rule(s) and the page will load as expected.