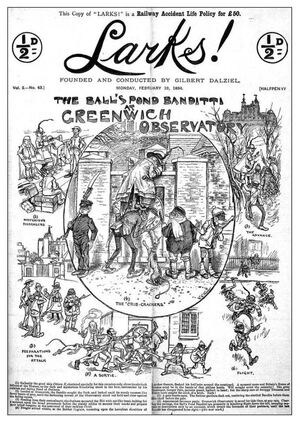 George Gordon Fraser was born in Cramond, near Edinburgh, on 11 April 1859, the son of an army surgeon. The family moved to Bedford by 1861, and his parents were living in St. Ives, Cambridgeshire, by 1891. George married Catherine Ross, born in India to an Irish family, in 1884. They were living in Fulham, London, when their first child was born in 1886.
He drew for a number of London-based papers, including The Art Journal (1881), Fun (1888-1895), The Idler (1892), The Ludgate Monthly (1892), Fun's Funny Scraps (1892), Larks! (1893-1894) and Judy (1894). For Fun he produced "sketches of humorous Irish character", and for Larks! he created the cover feature, "The Ball's Pond Banditti", a comic strip about a kids' gang which might be considered an ancestor of the Bash Street Kids. He illustrated books, including Jerome K. Jerome's Diary of a Pilgrimage (1891), and painted watercolours.
By 1891 he and his family had joined his parents in St. Ives. He accidentally drowned while skating there during the severe winter of 1895.
External links
Edit
References
Edit
Bio at Scoop! (subscription required)
Alan Clark, Dictionary of British Comic Artists, Writers and Editors, The British Library, 1998, p. 62
Simon Houfe, The Dictionary of 19th Century British Book Illustrators, Antique Collectors' Club, 1996, p. 144
George and Edward Dalziel, The brothers Dalziel; a record of fifty years' work in conjunction with many of the most distinguished artists of the period, 1840-1890, p. 312
Ad blocker interference detected!
Wikia is a free-to-use site that makes money from advertising. We have a modified experience for viewers using ad blockers

Wikia is not accessible if you've made further modifications. Remove the custom ad blocker rule(s) and the page will load as expected.