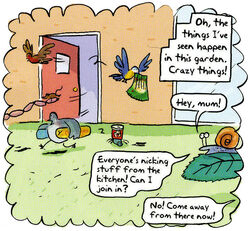 "Gary's Garden" is a strip from The Phoenix, written and drawn by Gary Northfield.
It revolves around a revolving cast consisting of the various animals that live in the garden of the titular Gary (presumably Mr. Northfield himself).
A set of "Top Chumps" cards featuring the strip's characters were printed in issues 118 and 119.
Ad blocker interference detected!
Wikia is a free-to-use site that makes money from advertising. We have a modified experience for viewers using ad blockers

Wikia is not accessible if you've made further modifications. Remove the custom ad blocker rule(s) and the page will load as expected.