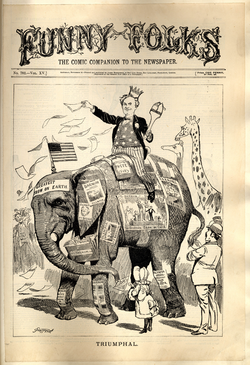 Funny Folks was a weekly comic published from 1874 to 1894 by James Henderson & Sons; a case can be made for it being the first ever comic publication. It was originally given away as a pull-out supplement to the The Weekly Budget Christmas Triple Number before being sold separately. During the course of its run its target audience shifted from middle class adults, to working class adults, and eventually to children.[1][2]
The first cover was by John Proctor, alias Puck, who became a regular contributor to the comic.[3]
References
Edit
↑ http://www.brokenfrontier.com/lowdown/p/detail/funny-folks-and-comic-cuts-a-brief-history-of-british-comics
Ad blocker interference detected!
Wikia is a free-to-use site that makes money from advertising. We have a modified experience for viewers using ad blockers

Wikia is not accessible if you've made further modifications. Remove the custom ad blocker rule(s) and the page will load as expected.