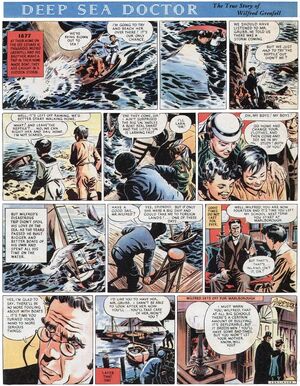 Francis John Dickson was born in Camberwell in 1888, son of James Bernard Dickson, a salesman for a paper company who wrote material for music hall performers Fred Williams and Harry Randall in his spare time, and his wife Mary Josephine, née Ross. During the First World War he was a balloon-based observer in France.
He was a drummer and songwriter in the late 1910s and 1920s, playing with jazz pianist Gerry Moore at the Trident Club in London in 1928. Beginning with a short story in the Daily Mail in 1929, he wrote fiction under the name R. B. Saxe. In the 1940s he wrote a series of novels featuring detective John Dobbs, aka the Ghost, set in Belgravia but written in an over-the-top American hard-boiled style.
In 1952-53 he wrote a series of biographical strips for the Eagle, and Eagle and Girl annuals for 1953:
He died of lung cancer on 6 February 1953, aged 64. He was living in Dryden Street, London, and working as a commercial traveller at the time.
References
Edit
Steve Holland, R. B. Saxe, Bear Alley, 7 January 2010
Ad blocker interference detected!
Wikia is a free-to-use site that makes money from advertising. We have a modified experience for viewers using ad blockers

Wikia is not accessible if you've made further modifications. Remove the custom ad blocker rule(s) and the page will load as expected.