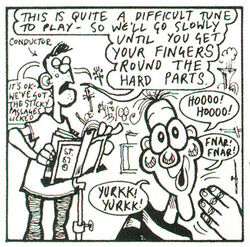 "Finbarr Saunders and his Double Entendres" is a strip from Viz. It stars a cheeky young lad who reads dirty double meanings into innocuous conversations, but is completely oblivious to the sexual relationship between his mother and her friend Mr Gimlet, no matter how bluntly they spell it out to him.
Ad blocker interference detected!
Wikia is a free-to-use site that makes money from advertising. We have a modified experience for viewers using ad blockers

Wikia is not accessible if you've made further modifications. Remove the custom ad blocker rule(s) and the page will load as expected.