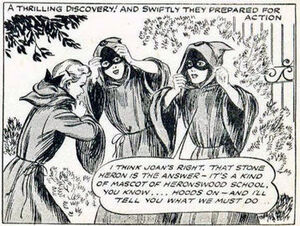 Evelyn Betty Flinders was born in Fulham, London, on 21 March 1910. She entered Hornsey Art School at the age of fifteen, and in 1928 got her first job with the Amalgamated Press, drawing for Schooldays. By the time she was 21 she had drawn for virtually all AP's girls' weeklies. When School Friend relaunched in 1950, her strip "The Silent Three", written by Horace Boyten and Stewart Pride, was the cover feature. She retired in 1959, and died in Hertfordshire in November 1997.
References
Edit
Online reference
Edit
Ad blocker interference detected!
Wikia is a free-to-use site that makes money from advertising. We have a modified experience for viewers using ad blockers

Wikia is not accessible if you've made further modifications. Remove the custom ad blocker rule(s) and the page will load as expected.