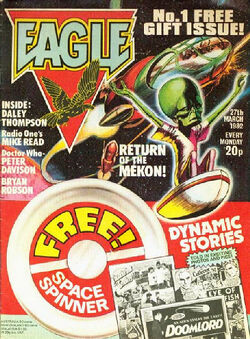 The Eagle, a revival of the original Eagle, was launched as a weekly comic by IPC on 27 March 1982. It absorbed Scream! (1984), Tiger (1985), Battle (1988), Mask (1988) and Wildcat (1989), and was cancelled in January 1994.
Like its predecessor, its lead strip was "Dan Dare" - but the hero was the great great grandson of the original. Stories were written by John Wagner and Pat Mills, with painted art from Gerry Embleton, Ian Kennedy and John Gillatt. In 1989 the original Dan Dare returned in a six-part story drawn by original Eagle artist Keith Watson. Later stories were written by Tom Tully and drawn by David Pugh.
The rest of the comic initially consisted mainly of photo-stories, but it reverted to the traditional drawn format with issue 79 (1983). In its later years it went monthly, and much of its content was given over to reprints.
Strips included:
References
Edit
Ad blocker interference detected!
Wikia is a free-to-use site that makes money from advertising. We have a modified experience for viewers using ad blockers

Wikia is not accessible if you've made further modifications. Remove the custom ad blocker rule(s) and the page will load as expected.