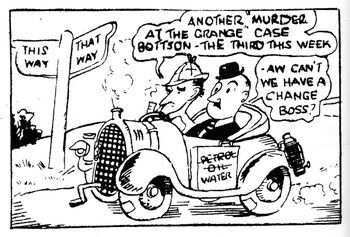 Douglas Lovern West was born in Fulham, London, on 3 June 1910, the son of Joseph Arthur West, a provision merchant's clerk, and his wife Hannah Bessie, née Lovern. He drew for Gerald Swan's comics in the 1940s and '50s, including "Sheerflop Soames", who appeared in Thrill Comics (1940), Topical Funnies (1940-46), New Funnies (1946), Cut Fun (1946) and Fresh Fun (1948). Other Swan titles he worked on include Extra Fun (1940), Slick Fun (1940-45), War Comics (1940-44), Coloured Slick Fun (1945-51) and Cute Fun (1946-51). He illustrated book jackets for the same publisher, including The Fangs of Suet Pudding]] (1944). For other publishers, he drew for Sunny Times Comic (1948), Marvelman and Young Marvelman (1950s). From the '40s until the '70s he drew comic postcards for Coastal Cards. He lived in Storrington, Sussex, and died in the second quarter of 1978.
References
Edit
Alan Clarke, Dictionary of British Comic Artists, Writers and Editors, The British Library, 1998, pp. 181-182
Denis Gifford, Encyclopedia of Comic Characters, Longman, 1987
Searching for artist Douglas Lovern West, Postcard.co.uk message board
Ad blocker interference detected!
Wikia is a free-to-use site that makes money from advertising. We have a modified experience for viewers using ad blockers

Wikia is not accessible if you've made further modifications. Remove the custom ad blocker rule(s) and the page will load as expected.