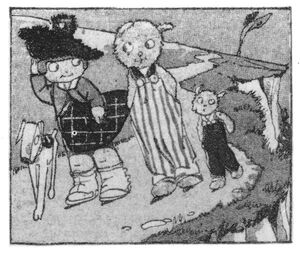 Dorothy Heather was an artist who worked on British nursery comics. She drew "The Adventures of Brave Scottie" in Playtime in 1919, and contributed illustrations to The Pillar-Box magazine in the 20s, Great Stories for Girls annuals in the 1930s, Enid Blyton's The Eleventh Holiday Book, Robin and Girl annuals in the 50s and 60s. She also illustrated children's books.
References
Edit
Denis Gifford, Encyclopedia of Comic Characters, Longman, 1987, p. 34
Steve Holland, Dorothy Heather, Bear Alley, 9 February 2008
Ad blocker interference detected!
Wikia is a free-to-use site that makes money from advertising. We have a modified experience for viewers using ad blockers

Wikia is not accessible if you've made further modifications. Remove the custom ad blocker rule(s) and the page will load as expected.