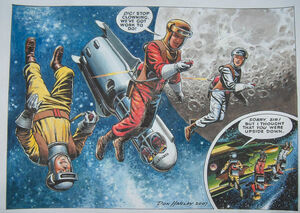 Donald Eric Harley was born in London in 1927, and studied at Epsom College of Art, where Frank Hampson visited to give a talk about the Eagle and Dan Dare. Harley soon applied for and got a job in Hampson's studio. He was the backbone of the strip, especially during Hampson's periods of illness, and worked with Hampson, Eric Eden and Joan Porter until the studio was disbanded in 1959 after Odhams Press took over the paper. He remained on the strip for a time, drawing the second page while Frank Bellamy did the first, from scripts by Eden. After a year Bellamy left the strip and Harley became the lead artist, assisted by Bruce Cornwell, until 1962 when a new team of writer David Motton and artist Keith Watson took over. He later drew "Thunderbirds" in Countdown (1971-72), and worked in nursery comics in the 1980s.
References
Edit
Alan Clark, Dictionary of British Comic Artists, Writers and Editors, The British Library, 1998, p. 71
Daniel Tatarksy, Dan Dare: The Biography, Orion Books, 2010
Eagle Archive: The Artists (via Internet Archive)
Online reference
Edit
Ad blocker interference detected!
Wikia is a free-to-use site that makes money from advertising. We have a modified experience for viewers using ad blockers

Wikia is not accessible if you've made further modifications. Remove the custom ad blocker rule(s) and the page will load as expected.