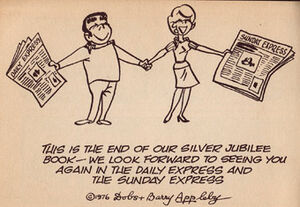 Dobs Appleby, born Doris Mary Knight on 11 June 1911, was the writer and co-creator, with her husband Barry Appleby, of The Gambols, a daily strip about a suburban family, which ran in the Daily Express from 1950. She married Barry in Surrey in 1936. After she died, in June 1985 in Yeovil, Somerset, Barry continued the strip alone until his own death in 1996.
References
Edit
Alan Clark, Dictionary of British Comic Artists, Writers and Editors, The British Library, 1998, p. 4
The Gambols and Barry Appleby on Wikipedia
Wikia: Women in Comics
Ad blocker interference detected!
Wikia is a free-to-use site that makes money from advertising. We have a modified experience for viewers using ad blockers

Wikia is not accessible if you've made further modifications. Remove the custom ad blocker rule(s) and the page will load as expected.