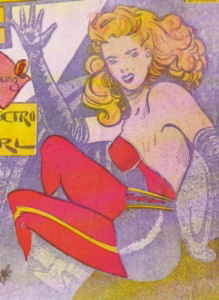 Dennis Malcolm Reader was born in Peterborough on 28 May 1927. He became a printer's apprentice at the age of 14, during which time he was taught art by a retired teacher.
He worked on a large number of postwar single-issue comics that aped the format of American publications; this genre died out due to an influx of comics reprinting genuine American material.
His first creation was Cat Girl, a scantily-clad superheroine who appeared from 1944 in Topical Funnies and Thrill Comics. After the war Reader began working for Cartoon Art Productions. Amongst his creations for this company was Kerry Lattimer, Britisher and Crime Reporter, a curious attempt at a Dickensian superhero series in which a journalist is visited on Christmas Eve by the Ghost of Christmas Yet to Come ("I bear a message. On the dawn of Christmas Day you will become a crime-fighting force endowed with super-human gifts!") and transformed into a crimefighter named Powerman. This strip appeared from the third issue of Super-Duper (1946-49).
Other characters created by Reader include Hammond Eggs, Electro Girl (New Jungle Comics, 1947-49), Phantom Maid, Mike Tip, Acro Maid, Ace Britto, Captain Magnet, Rick Larson (Four Deuces), Both 3000, Wonder Boy (G-Boy Comics), Johnny Wilde (Hubba Hubba), Tim Craig (Atomic Bombshell), Burt Steele (Bestofall Comics) and the western Dusty Trale.
After retiring from comics, he worked in the art department of a Peterborough engineering firm until the 1980s, when he went freelance, drawing cartoons for training manuals and writing and illustrating children's books, two of which, A Lovely Bunch of Coconuts (1989) and I Want One (1990), were adapted for television. He passed away in Northamptonshire on 31 March 1995 at the age of 68.
References
Edit
Obituary, originally published in the Telegraph 20 June 1995; reprinted in Paperbacks, Pulps & Comics issue 4 (pp 63-65)
Alan Clark, Dictionary of British Comic Artists, Writers and Editors, The British Library, 1998, pp. 141-142
Online reference
Edit
Ad blocker interference detected!
Wikia is a free-to-use site that makes money from advertising. We have a modified experience for viewers using ad blockers

Wikia is not accessible if you've made further modifications. Remove the custom ad blocker rule(s) and the page will load as expected.