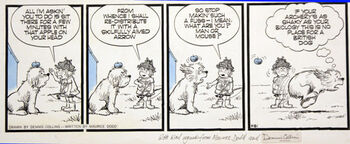 Dennis Collins came from Warwickshire. He joined a commercial art studio in Birmingham and studied at Birmingham Art School, before moving to Liverpool. During the Second World War he drew maps for the Royal Engineers' Survey and the War Office, and created identity papers to help smuggle British agents out of prisoner-of-war camps for the Secret Service. After the war he worked freelance in advertising.
In 1957 or so, having sketched a few cartoon characters, shopped them around Fleet Street and was taken on board by Bill Herbert, the cartoon editor of the Daily Mirror. He developed his characters, with the aid of writer Ben Witham, into a daily strip, The Perishers, which first appeared in the northern edition of the Mirror in 1958. Over the next few years it moved into other regional editions of the paper, and Witham was replaced as writer by Maurice Dodd.
Collins retired in 1983, and was awarded a plaque for Humourous Strip Cartoonist of the year by the Cartoonists' Club. Dodd then wrote and drew the strip until 1992, when Bill Mevin took over the art. Collins died in 1990.
References
Edit
Online reference
Edit
Ad blocker interference detected!
Wikia is a free-to-use site that makes money from advertising. We have a modified experience for viewers using ad blockers

Wikia is not accessible if you've made further modifications. Remove the custom ad blocker rule(s) and the page will load as expected.