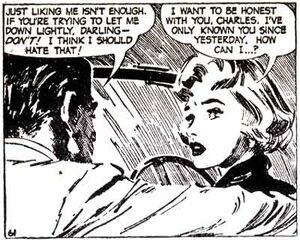 David Wright (b. 12 December 1912; d. 25 May 1967) was born into an artistic family: both his parents were artists. He joined his uncle's studio after leaving school, and in 1941 was hired by The Sketch to paint pin-ups of glamorous women, most of whom were modelled on his wife Esme. During the Second World War he did his national service as a driving instructor for the armed forced in Wales, which allowed him to continue his illustration work, and he became one of the country's most popular pin-up artists. In the 50s his work appeared in Men Only.
His first comics work was for Cowboy Picture Library in 1952, and he also drew glamour strips like "Judy" and "Jo" for Titbits, and Danger Treads Softly, which he painted in black and white in 1957. His most enduring creation was Carol Day, written by Peter Meriton, a serial comic strip about the life of a glamorous fashion model, which ran in the Daily Mail from 1956-67. After his death it enjoyed a brief revival in the Sunday Express in 1971, drawn by Kenneth Inns.
His son, Patrick Wright, is also a comics artist.
External links
Edit
Online reference
Edit
Ad blocker interference detected!
Wikia is a free-to-use site that makes money from advertising. We have a modified experience for viewers using ad blockers

Wikia is not accessible if you've made further modifications. Remove the custom ad blocker rule(s) and the page will load as expected.