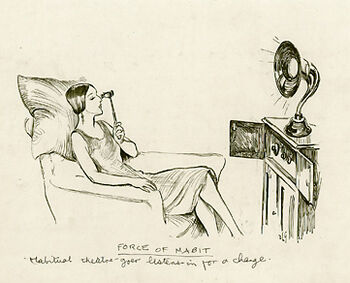 David Louis Ghilchik was born in Botoşani, Romania, on 7 April 1892, the son of Abraham Josef Ghilchik, a dealer in lace and linen, and his wife Sali. The family moved to Salford, and David studied under Adolphe Valette at Manchester School of Art from 1907 to 1915. There he met Josephine Duddle, whom he married in Chelsea in the fourth quarter of 1915. He went on to study under Henry Tonks and Ambrose McEvoy at the Slade School of Fine Art. He served as a truck driver on the Italian front during the First World War.
He drew cartoons for Punch, including some silent comic pages, and the Daily Sketch, between the wars. He competed for Great Britain in the 1928 and 1932 Olympics in the mixed painting, drawing and watercolor event, and painted in oils in a style influenced by Christopher Wood, exhibiting widely. He died in Poplar, London, in the fourth quarter of 1972.
References
Edit
Modris Eksteins, Rites of spring: the great war and the birth of the modern age, Houghton Mifflin Harcourt, 2000, p. 222
Online reference
Edit
Ad blocker interference detected!
Wikia is a free-to-use site that makes money from advertising. We have a modified experience for viewers using ad blockers

Wikia is not accessible if you've made further modifications. Remove the custom ad blocker rule(s) and the page will load as expected.